"With proper planning and coordination, a rhythm develops in the flight test program that supports safe and effective execution." – Stephanie Smith, Momentum Senior Engineer
There's nothing more fulfilling for a team of professionals than seeing a project come together successfully, having made a contribution to that effort, no matter how big or how small. The team at Momentum recently had the privilege of working with a great group of customers and people who are extremely experienced and knowledgeable in their field.
Long-time client, Parker Hannifin's Aircraft Wheel & Brake Division is the most recognized, global leader in innovative wheel & brake technologies.
The Need for Support to Increase Performance
Italian company, Piaggio Aerospace approached Parker Hannifin to develop a new wheel and brake that would improve the real world performance and characteristics of the Piaggio P-180 executive transport turboprop's brake system. The P-180's existing wheel and brake system was made of carbon fiber and had very little friction to slow the aircraft until reaching high temperatures. Once heated, the brakes had the potential to lock and cause the airplane to skid. This results in blown tires and potential aircraft damage and maintenance.
The existing brakes are also quite costly to replace. Piaggio was dedicated to finding a solution. Parker successfully designed the new wheel and brake and needed Momentum's assistance to navigate the STC (Supplemental Type Certificate) – required for installing the new equipment and assuring the product meets established FAA safety and performance requirements.
Coordinating Experience and Expertise to Create a Rhythm
In August 2018, Momentum gathered in Melbourne, FL (KMLB) with a team of experts from Big Sky Aviation to install the wheels and brakes on a customer-supplied aircraft. Representatives from Parker Hannifin and Piaggio North America reviewed the installation while Momentum provided preparation, oversight and inspection services –  including a complete conformity and experimental airworthiness certificate for the modified aircraft. Experimental airworthiness certificates are required for flight when any aircraft is modified beyond its originally approved state. In the case of the Piaggio P-180, an experimental airworthiness certificate was required to test the new wheel & brake system that was not yet FAA approved.
Meanwhile, Momentum's engineering team worked at the Lakeland Linder Regional Airport, Lakeland Florida (KLAL) to prepare for three days of landing distance and rejected takeoff testing. This is no small effort and required assistance from the airport authority, fire department, local FBO (Fixed-Base Operator) Sheltair, and local maintenance facility Aero Mech.
The following day it was time to get the tests started. One of the nation's most experienced P-180 pilots, Kevin McKamey, performed a flight check at KMLB followed by a ferry flight to KLAL. Flight test DER and Momentum partner, Mark Anderson, of Flight Test Solutions, joined in the testing to allow the Momentum team to gather certification data.
Testing continued for two more days with only momentary delays one evening and one morning by wet runway conditions. Big Sky Aviation, led by Wayne Garner, kept the test pace steady with constant tire changes and brake inspections. Piaggio North America's Chris Grinnell, a maintenance expert on the P-180 airframe, supported the team with timely inspection support, technical and operational advice through each day of testing. Parker Hannifin's engineering team kept a close eye on the wheels and brakes during each tire change.
Landing and rejected takeoff testing can be hard on the equipment with repeated maximum performance braking events. Piaggio's amazing aircraft, combined with adept technical support and excellent performance from the new Parker wheels and brakes made for a squawk and incident free test program. The test aircraft and new wheels and brakes operated flawlessly, which serve to demonstrate the quality of the Parker Hannifin product.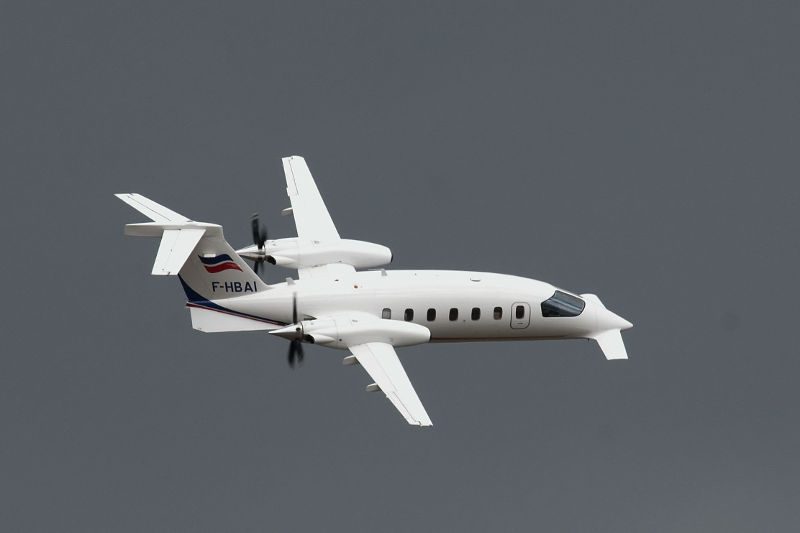 Finishing a Job that Couldn't Be Done Alone
Upon completion of the test program, the aircraft was returned to KMLB for temporary de-modification to its original configuration. Momentum inspected the aircraft and reinstated the Standard Airworthiness Certificate so the aircraft could be returned to its owner.
After a final check of all data gathered during the testing, Momentum conducted a team briefing and review with the customer. The seamless experience allowed delivery of a complete DER-approved test plan within a week of testing, and no requested changes from the FAA.
The testing was completed on schedule and within budget.
Senior Engineer for Momentum, Stephanie Smith says, "With proper planning and coordination, a rhythm develops in the flight test program that supports safe and effective execution." She continues, "Our team understands the value of clear preparation and communication for everyone involved in a flight test program, especially one conducted away from home base. In unfamiliar environments, delays can quickly drive up costs and destroy precious calendar time. Our comprehensive understanding of the FAA certification and flight test processes allows us to maximize effectiveness and efficiency, regardless of where we are operating from. We strive to deliver the best value to each customer and to make the best use of each available resource."
This project was a success because several factors came together. The product itself was very well engineered and a real-world improvement for the airplane, the pilots were skilled professionals who ensured safe operations, the engineering team was prepared to execute, and the local airport and maintenance personnel were ready, willing, and able to help.
"This new wheel and brake is a great addition to the airplane and we were so fortunate to have the opportunity to work with such skilled professionals, across the board." says Dan Garrett.
Momentum is grateful to the following people and companies for their continued relationship and support during Parker Hannfin's wheel and brake flight test program:
Sandra Grossman and Ed Marks – Parker Hannifin
Wayne Garner and John Blocks – Big Sky Aviation
Kevin McKamey – expert P-180 flight test pilot
Mark Anderson, Flight Test DER – Flight Test Solutions
Aero Mech Inc. – aeromech-inc.com
Sheltair, KLAL – sheltairaviation.com
Chris Grinnell and Paulo Ferreri – Piaggio Aerospace
Lakeland Linder Regional Airport – www.lakelandairport.com
Do you have a flight test program you need support in conducting? Contact the teamat Momentum and we'll provide recommendations for achieving a flawless program that is completed on time and within budget.